You've spent months working up the courage to join an MLM business that meets your goals and can help you achieve what you want. Now you're ready to take that next step and start building an MLM downline building system for your business. In this article, we'll give you some key pointers you'll need to follow to succeed.
Get the right tools, training, and support to help you
Once you start building your downline and have setup your mlm downline building system, it is vital to your success to build and provide actual value. Find the right tools to use that you can recommend to your members, and show them how they can get their hands on it in the quickest way possible – if that tool has an affiliate program, even better!
Another key to success is to actually train your members and the people in your downline. Provide video training within your downline system that helps them create their own success online through your guidance.
The key is to stimulate duplication within your downline; It is your job to show people how in simple and actionable steps.
Don't be shy and let people know what you're up to
Honesty goes a long way. Don't try to fool people into thinking you made it, while you are actually faking it. Instead, believe it, till you achieve it. People are smart enough to see through any faking attempts, and might even call you out on it.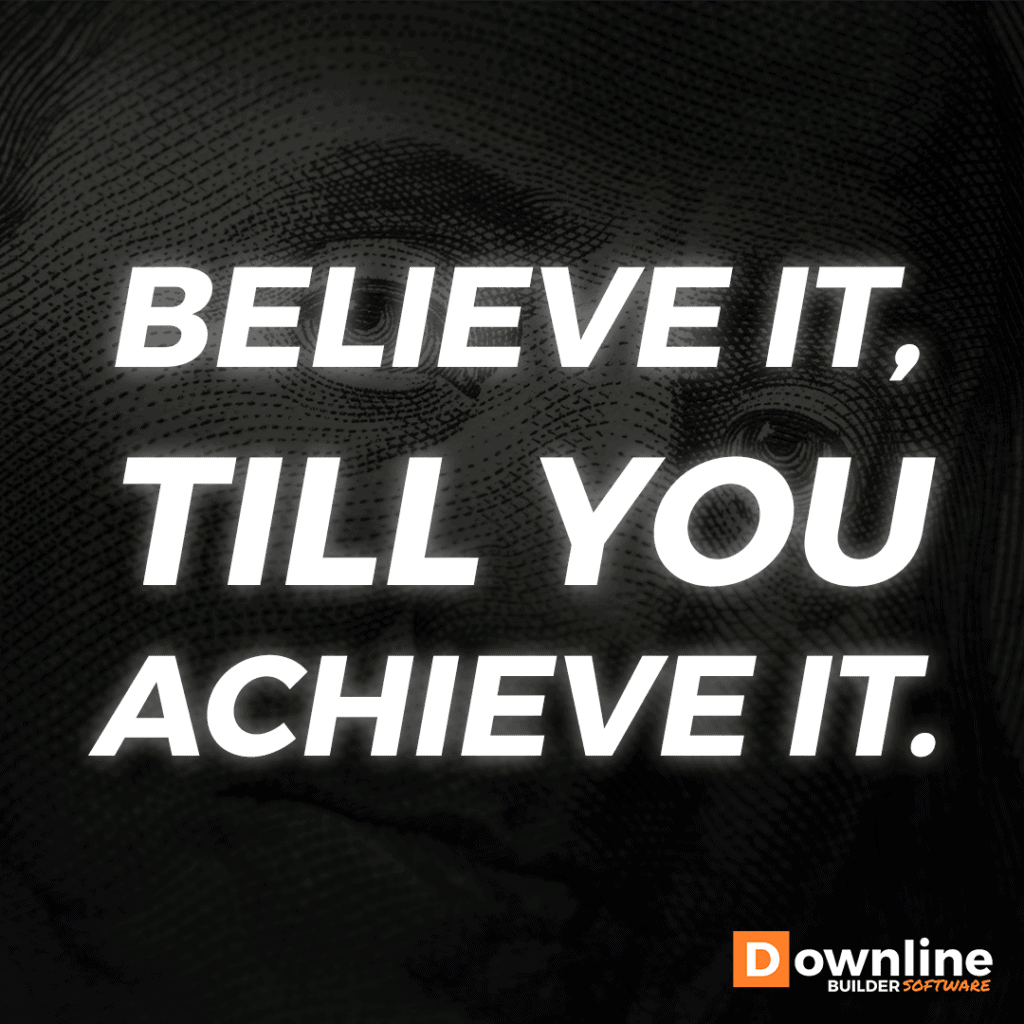 Instead, focus on showing people your progress. Show what you are doing publicly without placing that content behind a paywall right away. If you don't have an MLM downline building system set up just yet, share the videos publicly that you will later use to build your system setup. Provide the value without charging for it, and show people how to join your efforts into becoming successful with whatever you are working on… It will build rapport which is key to succeeding online.
After all, who would want to work with a lying douche ;).
Follow the leaders in your niche
If you are just starting out it might be a mighty good idea to follow people who are where you want to be. Note that you shouldn't copy anything from them (behaviour, proof, tics, etc) but simply follow and see what they do. What they talk about, who they congregate with and what they are doing on a day to day basis.
Although this might not always be particularly easy, it is very important for your growth. If you don't know what to do to succeed, you won't be able to build a successful MLM downline building system either!
As Russell Brunson says: Hack, but don't copy.
Figure out how to get started with a downline
After following leaders within your niche for a while and dissecting what they do, it is time for you to make up your mind and get started yourself. Ideally, you make a few plans that you yourself can follow to succeed based on what your own sponsor and upline does to succeed, combined with what you've observed.
Make sure you are always flexible, willing to adjust your plan and most importantly: be willing to learn.
It's rare somebody hits the nail on its head the first time around, and many leaders in the MLM industry are not on their first rodeo either and know the cracking of the whip. With great work comes great responsibility, and you need to make sure you are ready for that.
We'd love to hear how you are doing in your business, and how you are creating your MLM downline building system. Leave a comment below and let us know how you're faring, and if these tips have been of value to you!